The evident propaganda campaign to discredit "The Promise" film about Armenian Genocide (crew: Oscar-winning director Terry George, actors Christian Bale, Oscar Isaac, Charlotte Le Bon, Shohreh Aghdashloo, Angela Sarafyan) is continuing. After the three public screening of "The Promise," premiered at the Toronto International Film Festival on 11th of September, film got 55,126 1-star ratings on IMDb, which means that the users were voting politically without having seen it.
Independent has presented the full rate up to October 25. According to it, film has 86,704 ratings on IMDb, 55,126 of which are one-star and 30,639 of which are 10-star, with very few ratings falling anywhere in between.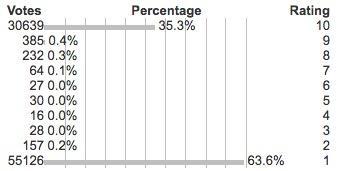 The majority of votes come from males outside the US.
It is IMDb's policy not to interfere with user ratings, but many have called for the database to step in following the tide of negative ratings.
By the way, recently Variety has spoken to producers of the film and found out that "The Promise" has faced some difficulties since its premiere. The film has yet to close a distribution deal, as some studios have business interests in Turkey, which continues to deny the systematic killings and slaughter of Armenians.
Follow NEWS.am STYLE on Facebook, Twitter and Instagram